Help the Climbing Club continue to provide safe climbing experience for our members!
A short summary of your project
Hello climbers and adventure enthusiasts! This campaign aims to raise funds for the University Climbing Club's essential equipment. With your generous support, we aim to gather £500 to buy brand new ropes for our club. These ropes will not only enhance our members' safety but also allow us to explore more challenging routes and push our limits on the climbing walls.
Who are WE?
We're the University of Essex Climbing Club (UECC), a fun and international team. Our aim is to create a safe, fun environment for both beginner and experienced climbers. This includes weekly sessions at the Sports Centre wall, day trips to indoor and outdoor walls, and longer trips away to various places in the UK and Europe to climb, hike, socialise and generally enjoy a great sport together!
our story
Climbing is a beautiful sport, qualified as an 'individual sport' it is so much more than that! Each sessions and trips we are all sharing a passion, our mindset: having fun, enjoy nature and landscapes while respecting the environment. From beginners to competent, we are all helping each other.
Join us in this exciting initiative and be a part of our journey to reach new heights! Your support will not only benefit our university climbing club but also contribute to creating a stronger and safer climbing community. Together, let's make this campaign a big success and take our club to new heights! 
Where will the money go?
New Climbing Ropes: Climbing ropes are the lifeline for every climber. Over time, our current ropes have endured extensive use, making it essential to replace them to maintain safety. The majority of the funds raised will be allocated towards purchasing reliable, durable, and certified climbing ropes. These ropes will provide our members with the confidence they need to push their limits and take on challenging routes.
With the minimum target, we will be able to buy 8 x 40m climbing ropes (£59.99) climbing ropes 
Equipment Maintenance: Regular maintenance is crucial to ensure the longevity of our climbing gear. Any remains of the funds will be used to conduct thorough inspections, repairs, and necessary replacements for our existing equipment, guaranteeing a safe and enjoyable climbing experience for our members.
If we reach more than our funding target, we will be able to buy additional climbing equipment that needs replacing, to help ensure safety and security of our members (such as carabiners, quickdraws, and belay devices).
What new ropes mean for us:
Enhanced Safety: Safety is our top priority. By acquiring new ropes, we can significantly reduce the risk of accidents and ensure the well-being of our members. Upgrading our equipment will enable us to minimize wear and tear, prevent potential rope failures, and enhance overall climbing safety.
Varied Climbing Opportunities: With new ropes, we can expand our horizons and explore a wider range of climbing experiences. Whether it's scaling towering rock faces, tackling multi-pitch climbs, or venturing into new terrains, these ropes will empower our members to embrace new challenges and develop their climbing skills.
Join us on this exciting journey as we raise funds to equip our University Climbing Club with the essential gear it needs to reach new heights safely and confidently. Your contribution will make a tangible difference in the lives of our members and ensure the future success of our club. We are incredibly grateful for your support!
Rewards
To thank you for donating or sharing we have some rewards for you :
For a donation of more than £15 : a shout-out on social medias
For a donation of more than £50 : a hoodie of the club
For a donation of more than £100 : a VIP session at the University climbing wall 
Images and video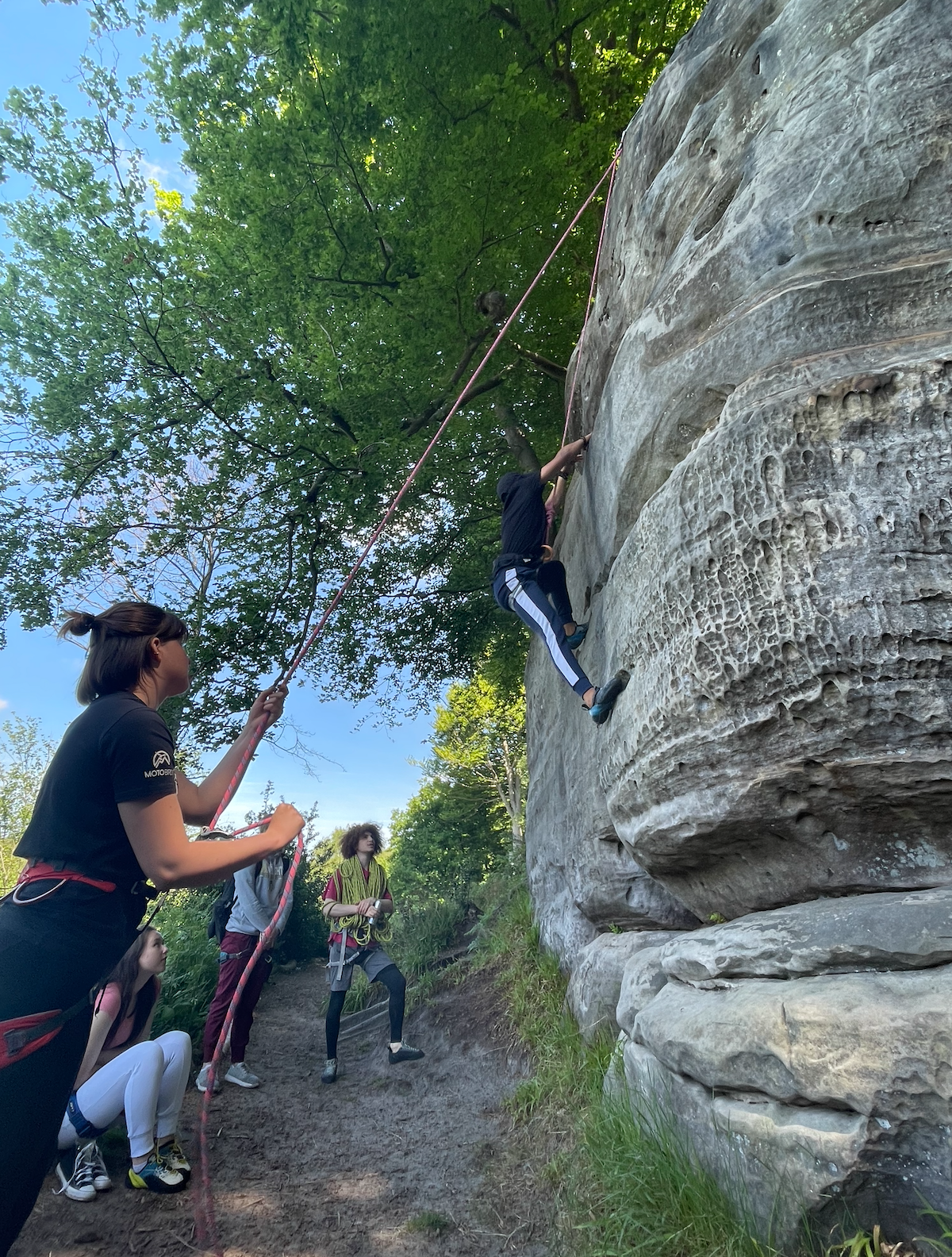 Find us here
Instagram : @uoeclimbing
Help us succeed!
 Your contribution will make a tangible difference in the lives of our members and ensure the future success of our club. We are incredibly grateful for your support!
Anything small or large will be a fantastic contribution, and you will forever be part of the UECC Family. We would love to meet you at one of our sessions and help you get into this fantastic sport & be part of the BEST SPORTS CLUB at the University of Essex!
We are grateful for anyone who's willing to make a donation, but please do share this project to all your friends, family and colleagues. Sharing is FREE & it would make a huge impact for our campaign.