a performance installation about Deptford Creek
A short summary of your project
We are looking to raise £3000 to put on Creekshow, an exhibition about Deptford Creek that will take place this April at APT Gallery in Deptford. 
This funding will help us to put on a week-long exhibition and to host a number of community events, including a community discussion with our local MP and a low tide walk through the creek. 
It will also help bring together local artists, and to make the project as accessible as possible for disabled audiences.
Who are WE?
We are Rita's Kitchen (aka Mary Malone and Jenny Witzel) and we live on Luna, a houseboat on Deptford Creek.
We met on the Contemporary Theatre course at East 15 Acting School and graduated in the lousy summer of 2020… This will be our first opportunity to show our work to a live audience and we can't wait!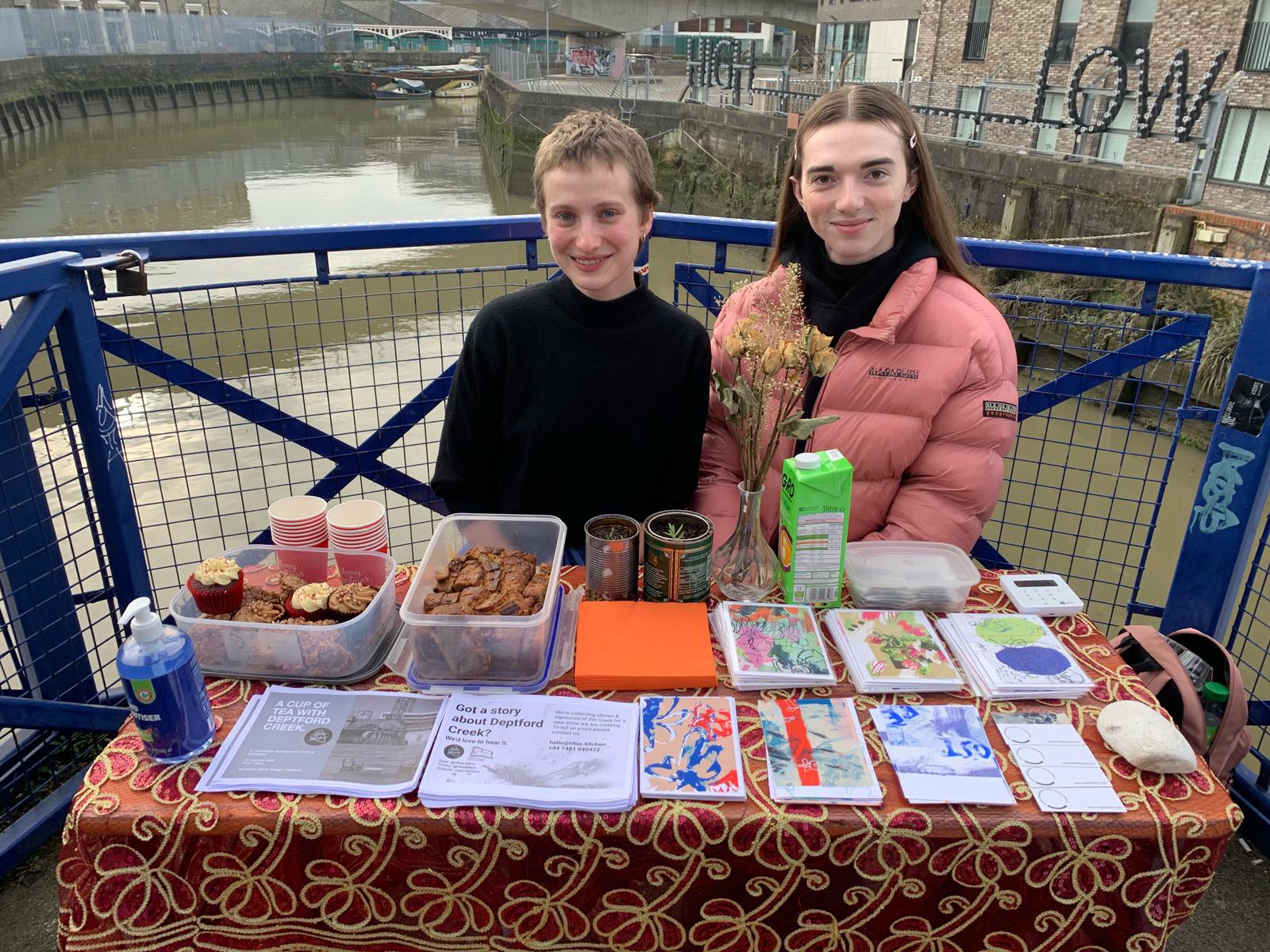 Image Description: Jenny (left) and Mary (right) fundraising for Creekshow on Ha'Penny Hatch Bridge in Deptford. They are sitting behind a table with cakes, prints, and flyers laid out on a red and gold sequinned table cloth. Behind them is the blue railing of the bridge and Deptford Creek at high tide.
ABOUT THE PROJECT
What is Deptford Creek?
Deptford Creek is a tributary to the Thames running through Bromley, Lewisham and Greenwich. It has a long history of fishing and shipbuilding dating back to the middle ages. It is most eye-catching when the tide is low and it is reduced to thick mud covered in bright green algae clinging onto shopping trollies and traffic cones.
Although it may not look like your idea of paradise, it is home to hundreds of species of plants and animals, and quite a few humans too!
Image Description: Deptford Creek at low tide. The thick mud of the creek is covered in algae which is bright green in the sunlight. A shopping trolley is partly submerged near the bottom left corner of the image. In the centre of the image the mud is split by a puddle, where the tide is coming in.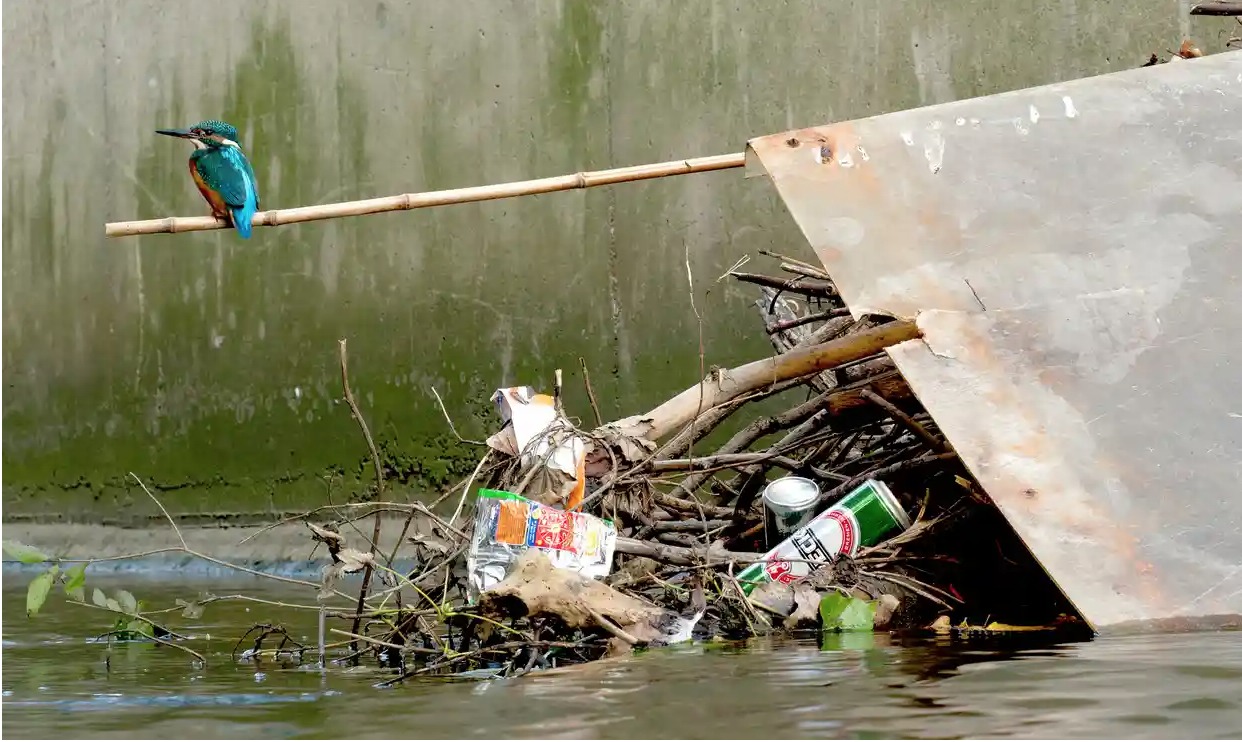 Image Description: A bird of the species Kingfisher is resting on a bamboo stick in the creek. The bird has bright blue-green feathers with a red chest. Beneath him are a sheet of metal, a pile of sticks and rubbish, and behind him is a stretch of the creek wall.
What is Creekshow about?
Living on Deptford Creek for the past two years, we have fallen in love with its unexpected magic. We have also witnessed a lot of construction and change… So much so that we may soon not be able to live on our houseboat because of planned development. We want to encourage people to look twice when they walk past Deptford Creek, and to recognise this endangered environment and community.
The show itself will bring to life memories of Deptford Creek through found objects and oral testimonies, which we will be gathering together from members of the local community. These will inspire us to develop a multimedia exhibition and performance, working with a group of renowned theatre artists, designers and musicians.
What else will it involve?
In the week of the exhibition there will be even more opportunities to get involved and learn about Deptford Creek, including:
- a guided walk in Deptford Creek with the Creekside Discovery Centre
- a panel discussion with our local MP Vicky Foxcroft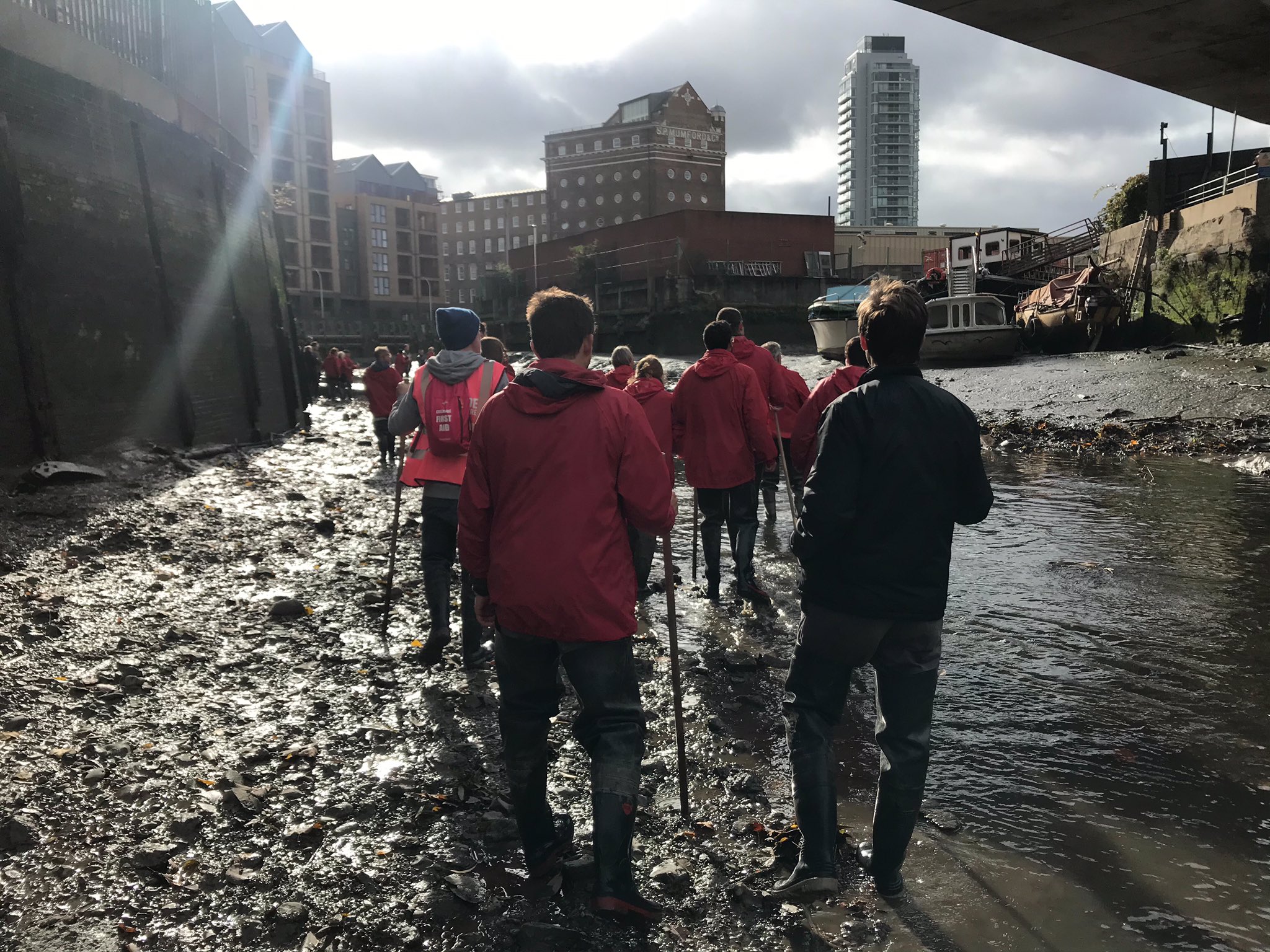 Image Description: A group of people walking in Deptford Creek at low tide. The sun is shining and they are facing away from the camera. They are wearing red rain jackets, wading boots, and carrying wooden sticks. In the background there are a couple of boats, and part of the Deptford skyline including Mumford's Mill.
HOW WILL it BE accessible?
Creekshow is supported by Shape Arts, a disability-led arts organisation that helps artists (like us) make their work more accessible to more people. As we will be working with a small budget, we might not be able to satisfy everyone. But our priority is to create a safe space and to make the content of the exhibition as inclusive as possible.
If you have any specific access needs that you would like us to be aware of, please get in touch via our social media or email!
WHERE WILL THE MONEY GO?
We have already received a seed grant from Lewisham Council towards the costs of Creekshow.
We need £3000 more to fund:
    Venue: £150
    Director: £650 
    Performer: £800
    Dramaturgy: £500
    Designer: £500 
    Sound designer: £400
And beyond…
Any money we raise beyond this target will go towards making Creekshow more accessible. We will be working with Shape Arts to make sure every penny spent above £3000 helps maximise accessibility. Exact spending is to be determined, but would likely include:
    Creative mentor working in disability arts: £200
    Audio Description training: £240
    Live subtitles: £240
    BSL interpreter: £420 for half day
Rewards
£10 - Social media shoutout
£20 - Hand painted thank you card
£50 - A3 Creekshow poster
£100 - All of the above and a guaranteed place on our guided walking tour of Deptford Creek OR exhibition preview + community discussion event
Find us here
Website: ritas.kitchen
Instagram: @ritas.kitch 
Twitter: @ritaskitch 
Email: hello@ritas.kitch 
Follow us to find out how we're doing!
Help us succeed!
You don't need to give money to help us! Spreading the word is just as valuable. Please share this project with anyone you think would be interested in supporting us. 
Please don't hesitate to ask us for this information in alternative formats.