The play platforms migrant and working class voices, shedding light on a horrific industry.
SHOW DESCRIPTION:
Blood on Your Hands is a contemporary piece that looks at the forgotten victims of the meat industry: the slaughterhouse workers. Focusing on Ukrainian vet Kazimir, and prospect-less English lad Dan, the themes of toxic masculinity, mental health, animal cruelty, xenophobia and classism are explored. Kazimir, on his first day on the job, connects with happy-go-lucky Dan, forming an unexpected connection in an unkind place. Unexpressed to one another, both are suffering with mental health issues, PTSD, depression and addiction. The polarity of Kazimir as a caring father, loving husband and vet turned slaughterer is seen, alongside Dan's fraught relationship with his ex-girlfriend, who is now a vegan activist. All the while, they are mistreated, exploited, and seen as utterly replaceable by the job that is their only option.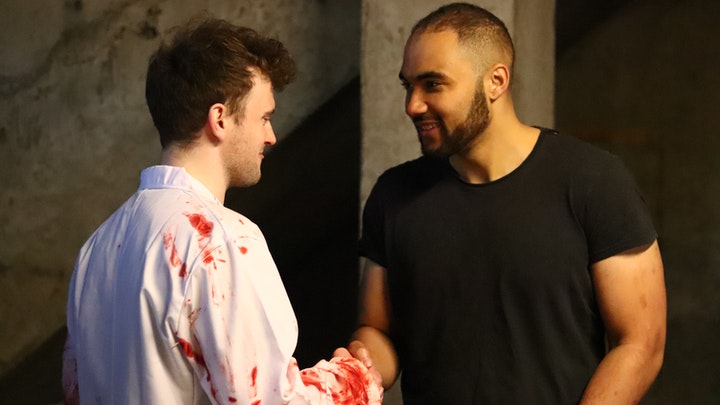 We are:
We are a brilliantly talented team consisting of East 15 students, drama school graduates and professional theatre makers who are willing to throw themselves into this project, believing in the importance of the show. 
Our thoughts:
This violent industry, with jobs often left to underpaid migrant workers, is rife with PTSD and Perpetrator-Induced Traumatic Stress (PITS). With suicide as the leading cause of death for men under 45, an environment with such an impact on a worker's mental health can be devastating. Writer Grace Joy Howarth says: "I believe it is paramount that the conversation around mental health and in particular male emotional suppression, can expand to include working class and global narratives. I think this show sheds light on a bloody industry, widely ignored by those who do not wish to kill their own meals, and often misunderstood by those who find meat production abhorrent."  
Where will the money go?
The Cockpit Theatre usually charges around £1600 for two nights' performances, but they have taken a leap of faith with our show, giving us free performance space in their impressive 175-seat auditorium, as well as artistic mentorship, as part of their 'Theatre Maker Scheme' for emerging artists. We also received Arts Council England funding to support the project running on a professional basis, covering creative and cast fees. 
We now need to raise the money to cover all the production costs. These include:
* Set (Inc. makes/second hand) = £400
* Costume (inc. makes/second hand) =£150
* Props (inc. makes/second hand) = £80
* Marketing costs = £150 (flyers and posters)
* Printing Scripts = £50
* Insurance during the showtime = £100
* Stage management = £300 (during the performance)
* Marketing officer fee = £800 (for running social media account and promoting the play by email)
If we hit our stretch goal, that will also cover the transport fees for theatre get in/out = £200
rewards
We have some fab rewards to thank everyone who donates, whatever the amount you might give. Check them out. £10 reward: Shout out on our social media (@bloodonyourhands22) as a supporter; £20 reward: Shout out and priority booking for the show; £50 reward: Shout out, priority booking and a signed show poster; £100 reward: 1 hour 30 min one to one acting lesson with Mountview trained Director Anastasia Bunce. Would you like to prepare a monologue for drama school auditions? Work on a character for a role? Learn a specific acting technique? This session will be tailored to your request; £200 reward: Become a sponsor of Blood On Your Hands. We will include your logo on the promotional materials for the show.
following to know more:
Instagram: @bloodonyourhands22 Facebook: @Blood On Your Hands
Help us make it as good as it can be:
You don't need to give money to help us succeed! Please share this project with anyone you think would support us – on Twitter, Facebook, LinkedIn, by email, telephone, in a chat over the fence or on your blog. In fact, share it with everyone you know as we think it's a great idea, and the more people who know about it, the more likely we are to make this work out brilliantly. And we know we said you don't need to give money to help us, but we'd love it if you did! Please sponsor us and help make this happen.