Spring-Heeled Theatre Co's Movement And Spoken Word Two-Hander Play Is Back!
A short summary of the project
We are Spring-Heeled Theatre Co. and we hope to raise £1050 to perform our show "The Seabreeze Calls Me" for a weeks R&D in Swindon (3rd - 8th of April) concluding in a two night run performance at the Bridge House Theatre in London (10th and 11th of April).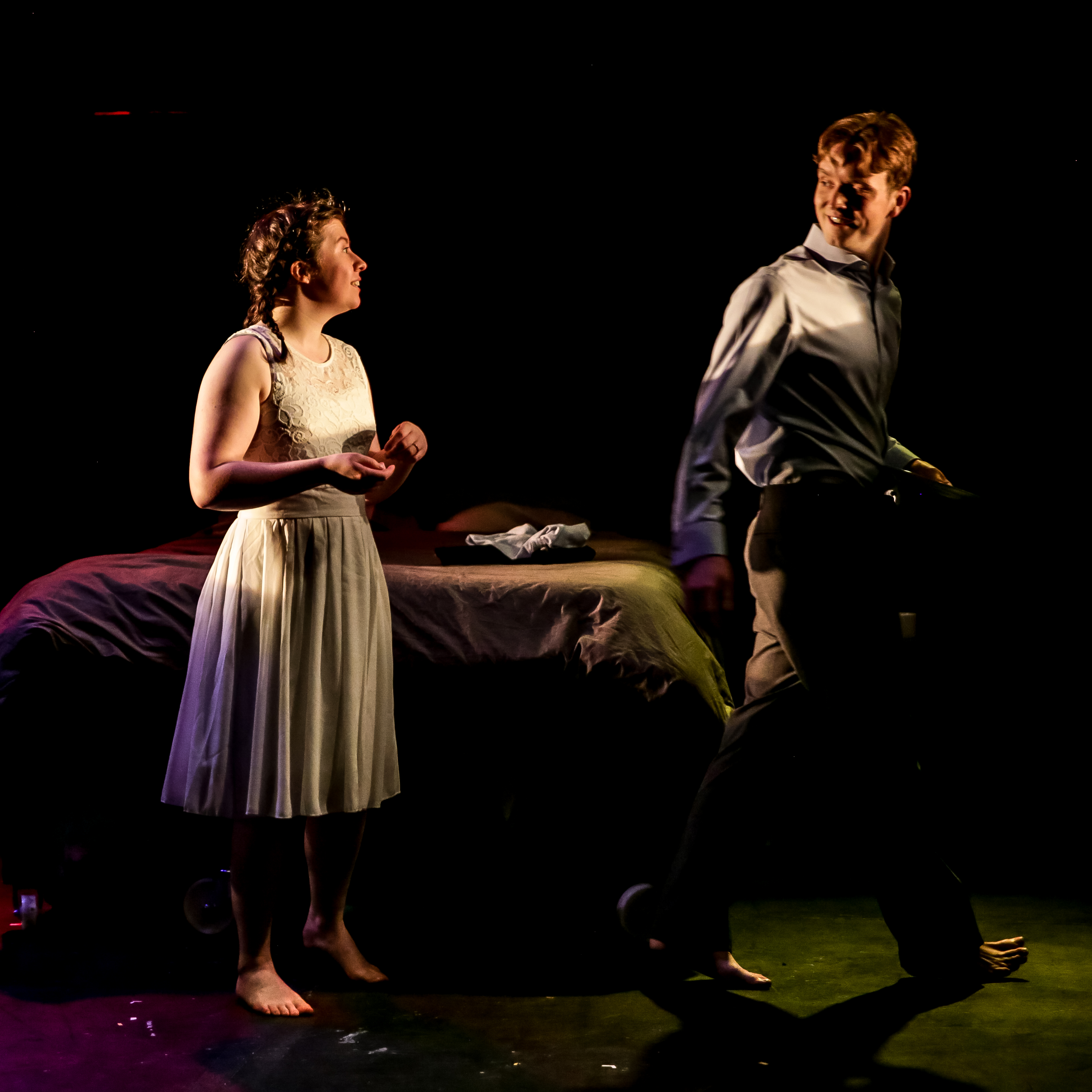 Who are we?
Spring-Heeled is a Swindon and London based theatre company, with roots in Cumbria and Wales, focusing on theatrical, collaborative and brash new writing. We aim to centre female voices and expand small moments to give them the gravity they deserve through physical and spoken storytelling. Our shows are an energetic exploration of the inner life and turmoil's of the characters who leave the stage in a chaotic mess. 
Meet the team: 
Lewis Williams (he/him): "The Welsh man that moves" recent East 15 CT Grad, likes long walks on the beach and is an ancient astronaut theorist. Lewis is developing his practice as a choreographer and collaborating so closely with a writer is providing a new way of approaching his artistic practice.
Rachael Gavin Stott (she/them): "The Cumbrian Queer" recent East 15 CT Grad, loves old literature about blood suckers, best person to have in a panic. Rachael is looking for ways to elevate the play from its previous iterations and adapting the show to the needs of two separate performance venues.
Louise Catherwood (she/her): "The Swindonian Women", recent East 15 CT Grad, likes guinea pig bridges and is at every moment playing a board game of some kind. Louise is returning to her role as a writer-performer, the challenge of which being the constant need for self-reflection and being able to assess the state of the work from a writers point of view while performing it herself.
OUR STORY
 We are performing the second run of "The Seabreeze Calls Me" at the amazing Bridge House Theatre in London. Prior to this London performance we are rehearsing the show under the guidance of Shoebox Theatre in Swindon and will perform a pay what you can show to allow people from any income bracket to see the show.  Immediately after this showing we will conduct an open discussion with the audience about the show and it's themes. The Seabreeze Calls Me is a visceral exploration through spoken word and physical theatre with characters dipping in and out of reality and fantasy. It takes heavily from the writer's experience being a woman growing up in a small town. 
 As a new theatre company the residency at the Shoebox Theatre will give us the space and time to further our creative practice and how we collaborate with new creatives. Taking the show on to Bridge House in London will develop a creative link between the city and Swindon's art scene, which has one of the lowest arts engagement rates in the country, fostering a relationship between the two audience pools. As a new Theatre company we are still finding our feet in the industry on how to put a show on and so are struggling finding the opportunities to get funding for shows. Our recent Arts Council Funding application has been sent off but this is never a certainty on getting it so we are looking to diversify our income for this performance as much as possible. We all at Spring-Heeled know how hard the covid situation has been on the art world and have lost many opportunities due to it and that is why we know how incredible an opportunity this can be for the show and for us as a company going forward to finally be seen in the arts industry. We need your help to get us off the ground so please if there's any chance you could donate even something small it would mean the world to us!
Where will the money go?
breakdown of costs for hitting are minimum amount:
Venue split: 60/40 (Bridge house/Us) and 100% of anything at Shoebox Theatre for the pay what you can
Stage Manager (3 days): £330 
Travel (Train tickets to/from Swindon & petrol for set): £220
Production running costs: £50
Online Marketing and Printing Costs (200 copies): £250
If we exceed over are expected target we will: 
If we exceed our minimum goal we shall use the extra funds to give back to Shoebox Theatre. The ShoeBox Theatre are letting us use their venue under a pay as you feel venue hire fee. This means any extra funds will go straight to them as a way to say thanks for the help they are providing us. We will update our social media platforms (instagram and twitter) every week to show how much is raised and make a real effort to push more people to give to it. We will engage with the people who do donate and the people who interact with our posts and fundraiser. We would look to do a general update every few days and then drip feed out our mentions.
Rewards
Hey, we have some fab rewards to thank everyone who donates, whatever the amount you might give. Check them out."For each person who funds us we will give a personal thank you shout out on our Instagram page story and higher donations we shall give video thank you to them. We are also looking to run a competition for a free ticket for the show in London which will be the reward for anyone who donates anything. 
Rewards list: 
£5 - A shout out on our instagram story!
£10 - A shout out on our instagram story and a personal video thanks!
£25 - A shout out on our instagram story, a personal video thanks and a signed program from all the cast! 
£50 - A shout out on our instagram story, a personal video thanks, a signed program from all the cast and a shout out in the program under "Special thanks for making this happen!"
£100 - A shout out on our instagram story, a personal video thanks, a signed program, a shout out in the program under "Special thanks for making this happen" and a free ticket to the show on the night of your choosing!Find us here:
Please follow us to find out more about us and our work: 
Website : https://www.spring-heeled.com
Instagram: https://www.instagram.com/spring.heeled/
Twitter: https://twitter.com/springheeledco
Help us succeed!
You need as many people as possible to be talking about your project. Everywhere you can think of!
Ask for help promoting the project – here's an example of the type of thing you might say, to give you some inspiration:
You don't need to give money to help us succeed! Please share this project with anyone you think would support us – on Twitter, Facebook, LinkedIn, by email, telephone, in a chat over the fence or on your blog.
In fact, share it with everyone you know as we think it's a great idea, and the more people who know about it, the more likely we are to make this work out brilliantly.
And we know we said you don't need to give money to help us, but we'd love it if you did! Please sponsor us and help make this happen.
Our answer: Now as excited as we are as a company to have this incredible opportunity this amount to raise will not be a "Breeze". That's why we need your Help! If you can give anything at all it would mean the world to us! Finally taking work into the world, especially a project that means so much is a blessing. Even if can't give anything thank you so much for reading and if possible please help us by sharing this with friends and family on social media to make sure this gets to as many people as possible. Thank you and I hope your having a Seazy Breezy day. A show about women, small town life and bodily autonomy. This show is a dressing down of how the modern world views the female body, pun intended. Please help us bring this show back to its birthplace. 
Our glorious trailer can be found here