Help us pay for travel, judges, outfits and more

A short summary of the project
The Pole Dance Club is hosting an inter-university competition with Hertfordshire, Suffolk and Anglia Ruskin which will be at the University of Essex and travelling to UEA to compete at Derby Day, as well as hosting a club showcase to give our members an opportunity to choreograph their own routines and show what they have learnt in classes.
The money raised will help us cover the costs of paying the judges for our competition, hiring a coach to UEA, purchasing any outfits and props for performances and all other costs associated with hosting the 2 events and participating in Derby Day.
Who are you?
The Essex University Pole Dance Club has been running for over ten years at the university. Every year we take on many new members who have never done pole dance before and we are always proud at how dedicated they are at improving in the sport. We are also a gold standard club which we pride ourselves in as all of our members and committee work incredibly hard throughout the year to be involved within university events, such as volunteering, fundraising and collaborations with other sports and societies.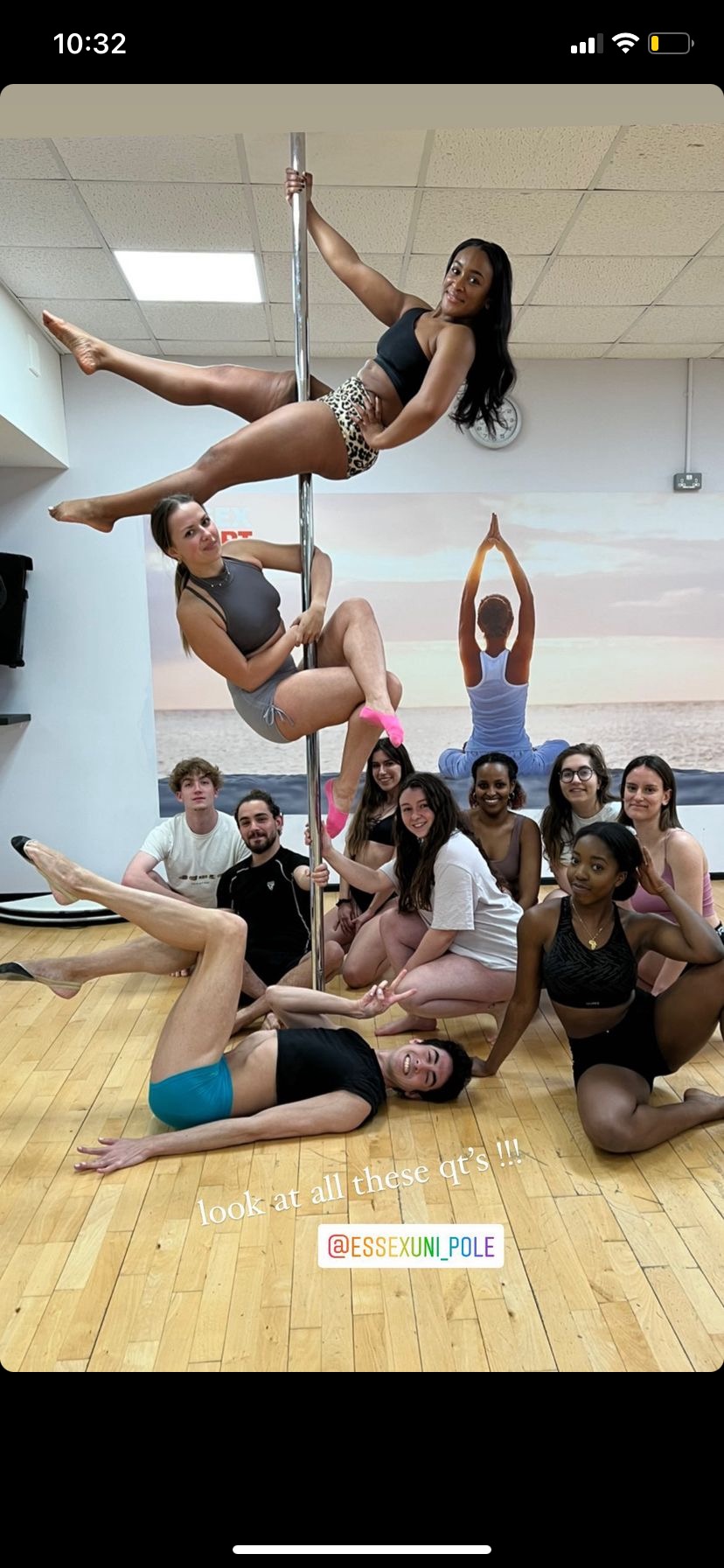 Your story
Being a university pole dance club, there are not many competition or showcase opportunities for our members to perform throughout their time at university. This is because pole dance competitions are generally very expensive and very difficult to put together, which is why we are so dedicated to providing any opportunities we can for our members. Our members work so hard throughout the year to improve their abilities, so these competitions and showcases are all about celebrating each others achievements!
We have already held a winter showcase event in December, where we raised over £300 for the Colchester Food Bank
Events such as these are so important for breaking stigmas associated with pole dance, as it provides a platform for people to see performances and have open conversations about it
By donating to this project, you can help us to provide opportunities for our members which would otherwise be impossible
Where will the money go?
£500 will cover all coach costs to UEA for Derby Day
£100 will pay the judges for our competition and their travel costs
The remaining £150 and anything over the goal would all go to costs associated with running a competition and showcase, such as awards for winners, competition outfits and more
Find us here
Instagram: @Essexuni_pole
Facebook: University of Essex Pole Dancing Club
Help us succeed!
We are so grateful for anybody who can donate to our project, even if you are unable to donate please share this project with your friends and on social media