Help Fat Rascal Theatre get their new feminist musical 'Buzz' to the Edinburgh Fringe Festival 2016




Buzz: A New Musical
In 50 BC Cleopatra hollowed out a fruit stone and filled it with angry bees providing her with the right kind of buzz. 

In 2016 Angie finds herself out of her depth with what it means to be a woman taking control of her sexuality. 
Winner of the 2016 Stella Wilkie Award and shortlisted for the Les Enfants Terribles Award, Buzz is a hilarious musical journey through the history of the vibrator and a brutally honest story of a singleton's quest to fall back in love with herself. Join us as we finally uncover the untold struggle for women's sexual independence throughout the ages.
"Bridget Jones meets the Book of Mormon".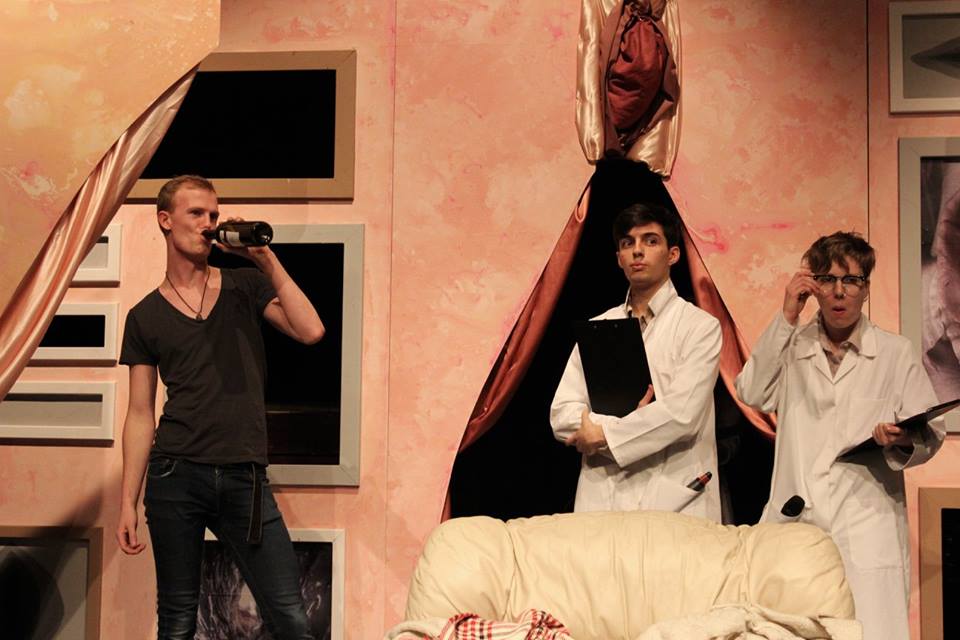 Who are we?
We are Fat Rascal Theatre.
We are fresh from the 2016-graduating year of East 15's BA Acting and Contemporary Theatre Course.
We are bold and quirky, cheekily exploring taboo subjects with a cup of Yorkshire Tea in hand. We use music and good old northern humour to tell relatable stories.
We want to get people thinking, talking and laughing about 'awkward' topics.
We want to redefine musical theatre and sing what others are scared to say.
We are honest, down to earth and approachable.
We share a passion for changing the world and Tunnock's tea cakes.

 
About the show
'Buzz: A New Musical' was first performed as a scratch after being selected for the Lyric Hammersmith's Evolution Festival for emerging artists. 'Buzz' was then featured as part of East 15 Acting School's Debut Festival in February 2016. This event is dedicated to the staging of new plays written, directed and performed by graduating students of the acclaimed 'CT course' (BA Acting and Contemporary Theatre), lead by Uri Roodner. The show received an amazing response, with interest from theatre companies and venues as well as fantastic audience reactions.
Since then we have been working hard to make the show even better.
With a strong cast of just nine members, this is brave new musical theatre that can be performed on a huge stage or simply in your sitting room. We believe we have created something unique with 'Buzz', a wacky and thought-provoking show. We aim to attract audiences of all ages, genders and races. We want to draw in people who would initially be put off by political or feminist theatre by using an accessible format they are more familiar with to convey our message.
The audience join our clumsy and loveable protagonist, Angie, on a journey through the history of the vibrator, but also a personal quest to move on from her ex-boyfriend, Mark. As she stumbles through relatable everyday failures, it is great to see the audience get on Angie's side, laugh, cringe and cry with her. This show really is for everybody, but the response we had particularly from women was incredible, they told us about their relationships and how 'Buzz' made them feel empowered as single women. So often in theatre women are merely an accessory to a man's story: 'Buzz' is the answer to that. We are representing real women from all over the world throughout history: silly, ridiculous and beautifully imperfect.
Where will the money go?
The Edinburgh Fringe Festival is a great place for us to showcase Buzz, network, meet producers, get word out about Buzz and really open doors to future adventures for us. 
Our current costs are:
Venue £3888
Set £650
Fringe Registration £295
Flyers and Posters £350
Insurance £182.50
Van Hire £306.50
Contingency £300
Minus £500 East 15 New Companies Scholarship= 
TOTAL : £5472
So if we manage to raise our aim of £3000 this would be a massive boost in the right direction! 


Check us out!
Dig on deep and help us, were begging on our knees...
Anything you can donate is such a massive help and we are so incredibly grateful (See our fabulous rewards). Even if you can't donate please share our page and help us get the word out! 
Or if you know any wealthy vibrator fans... y'know... pass it on
Thank you from all of us here at Fat Rascal Theatre!